February 20, 2022
Adult Sunday School convenes at 9:30 on Zoom and in-person, Children's Sunday School is in-person at 9:30am

PRE-SERVICE MUSIC
PRELUDE
led by Dana
WELCOME, COMMUNITY LIFE & GREETING
JESUS, ALL FOR JESUS
Jesus, all for Jesus
All I am and have and ever hope to be
Jesus, all for Jesus
All I am and have and ever hope to be.
All of my ambitions hopes and plans
I surrender these into your hands
All of my ambitions hopes and plans
I surrender these into your hands.
chorus
For it's only in your will that I am free
For it's only in your will that I am free
Jesus, all for Jesus
All I am and have and ever hope to be.
. CCLI #349090
Words & Music: Robin Mark © 1991 Word's Spirit of Praise Music.
SERVICE OF DEDICATION
Solveig Sophia Johnson
daughter of Stacey and Bryan Johnson
Sister of Svea & Gustav
CHILDREN OF THE HEAVENLY FATHER
Children of the heav'nly Father
Safely in His bosom gather;
Nesting bird nor star in heaven
Such a refuge e'er was given.
God His own doth tend and nourish,
In His holy courts they flourish;
From all evil things He spares the,
In His mighty arms He bears them.
Neither life nor death shall ever
From the Lord His children sever;
Unto them His grace He showeth,
And their sorrows all He knoweth.
Praise the Lord in joyful numbers,
Your protector never slumbers;
At the will of your Defender
Ev'ry foeman must surrender.
Though He giveth or He taketh,
God His children ne'er forsaketh;
His the loving purpose solely
To preserve them pure and holy.
Tryg-ga-re kan ing-en va-ra
An Guds lil-la bar-na-ska-ra;
Stjar-nan ej pa him-la-fas-tet,
Fa-geln ej i kan-da nas-tet.
Covenant Hymnal, #87
I GIVE YOU MY HEART
(a song of response and preparation)
This is my desire
To honor You
Lord with all my heart
I worship You
All I have within me
I give You praise
All that I adore is in You
chorus
Lord I give You my heart
I give You my soul
I live for You alone
Ev'ry breath that I take
Ev'ry moment I'm awake
Lord have Your way in me
CCLI Song # 1866132 CCLI License # 349090
Reuben Morgan © 1995 Hillsong Music Publishing Australia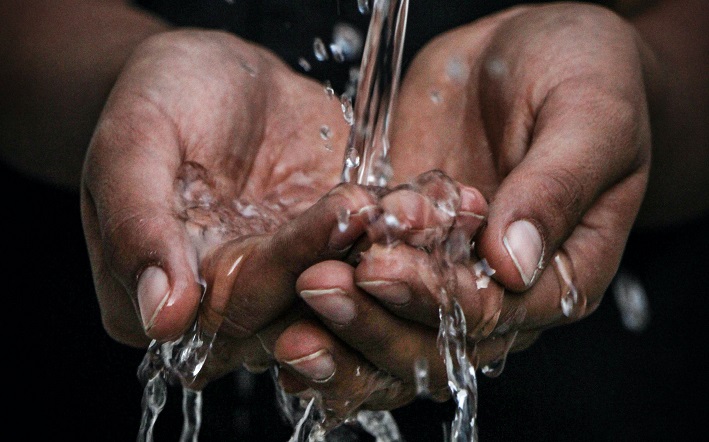 GOSPEL LESSON
(Stand as you are able for the reading of the Gospel.)
John 7:37-52

37 On the last day of the festival, the great day, while Jesus was standing there, he cried out, "Let anyone who is thirsty come to me, 38 and let the one who believes in me drink. As the scripture has said, 'Out of the believer's heart shall flow rivers of living water.'" 39 Now he said this about the Spirit, which believers in him were to receive; for as yet there was no Spirit, because Jesus was not yet glorified.
40 When they heard these words, some in the crowd said, "This is really the prophet." 41 Others said, "This is the Messiah." But some asked, "Surely the Messiah does not come from Galilee, does he? 42 Has not the scripture said that the Messiah is descended from David and comes from Bethlehem, the village where David lived?" 43 So there was a division in the crowd because of him. 44 Some of them wanted to arrest him, but no one laid hands on him.

45 Then the temple police went back to the chief priests and Pharisees, who asked them, "Why did you not arrest him?" 46 The police answered, "Never has anyone spoken like this!" 47 Then the Pharisees replied, "Surely you have not been deceived too, have you? 48 Has any one of the authorities or of the Pharisees believed in him? 49 But this crowd, which does not know the law—they are accursed." 50 Nicodemus, who had gone to Jesus before, and who was one of them, asked, 51 "Our law does not judge people without first giving them a hearing to find out what they are doing, does it?" 52 They replied, "Surely you are not also from Galilee, are you? Search and you will see that no prophet is to arise from Galilee."
Leader: The Word of the Lord
People: Thanks be to God
(sung)
Glory be to the Father,
And to the Son, and to the Holy Ghost:
As it was in the beginning,
Is now and ever shall be,
World without end. Amen, Amen.
Children ages 3-5 are dismissed to the fellowship hall at this time for Children's Church.
TRUST IN THE LORD WITH ALL YOUR HEART
Trust in the Lord with all your heart,
Don't lean on your own understanding.
In all your ways acknowledge Him
And He will direct your paths.
Al-le-lu-ia, Al-le-lu-ia, and
He will direct your paths.
REFLECTING ON THE WORD
Muddling Along
Pastor Phil
I WANT TO BE LIKE JESUS
Called to serve, unreserved,
I want to be like Jesus.
Living water flowing free,
Quenching thirst, washing feet;
I want to be like Jesus.

May God's will be fulfilled.
I want to be like Jesus.
Choosing life in Christ alone,
Not my will, but His own.
I want to be like Jesus.

Yielded heart set apart,
I want to be like Jesus.
Seeking God's priorities,
So the world clearly sees,
I want to be like Jesus.

Working toward heav'n's reward,
I want to be like Jesus.
Service done in Jesus' name,
For the lost, to reclaim.
I want to be like Jesus.
Covenant Hymnal, #630
PRAYERS OF THE CHURCH & THE LORD'S PRAYER
We continue to pray for: Kristine Brandel's family, Nikolas Arden, Shirley Nicholas, Art & Rosa Hamilton, Esther Stoel, the Koeller family, Mary Smith, Delores and Steve Staurseth, Jane Auger, Mary McKirchy, and the former congregation of Immanuel Evangelical Covenant Church.
Ministries & Mission
Carolyn & Jeffrey Stoker, serving in Cameroon; Renee Nicholas, serving local graduate students and faculty with InterVarsity
THE LORD'S PRAYER:
Our Father, who art in heaven, hallowed be Thy name. Thy kingdom come, Thy will be done, on earth as it is in heaven. Give us this day our daily bread, and forgive us our sins as we forgive those who sin against us. And lead us not into temptation, but deliver us from evil. For Thine is the kingdom, and the power, and the glory forever. Amen.
GIVING OF OUR TITHES & OFFERING
giving opportunities: ravenscov.org/giving/
Zelle® to: giving@administrator
OFFERTORY
Ash Grove
led by Erin and Cynthia
DOXOLOGY & PRAYER
Praise God from whom all blessings flow
Praise Him all creatures here below;
Praise Him above ye heav'nly host;
Praise Father, Son, and Holy Ghost. Amen.
IN THE RIVER
There is a river where goodness flows
There is a fountain that drowns sorrows
There is an ocean deeper than fear
The tide is rising, rising
There is a current stirring deep inside
It's overflowing from the heart of God
The flood of heaven crashing over us
The tide is rising, rising
Bursting, bursting
Up from the ground we feel it now (x2)
chorus
We come alive in the river
We come alive in the river
We come alive in the river
We come alive in the river
Break open prison doors
Set all the captives free
Spring up a well, spring up a well
Spring up a well in me
Nothing can stop this joy.
We're dancing in the streets.
Spring up a well, spring up a well
Spring up a well in me. (chorus)
CCLI Song # 7054537 CCLI License # 349090
Chris Quilala | Joshua Silverberg | Mark Alan Schoolmeesters |
Ryan Williams © 2015 Capitol CMG Amplifie
BENEDICTION
L: Go in peace to love and serve the Lord
P: Thanks be to God
POSTLUDE
Moderato du Deuxieme Ton
Jean Adam Guilain
led by Cynthia

INVITATION & FINAL SLIDES
We'll be back here next Sunday. We hope you can join us. Information on ravenscov.org.
music as we go, by axiom.brass

Covid restrictions for in-person worship
Chicago is now requiring the use of masks for indoor public gatherings, so Ravenswood Covenant has reinstated safety protocols for Sunday morning worship. This means that within the building masks are required at all times, regardless of vaccination status; seating is socially distant; and handshakes and hugs are avoided.

We are still observing precautions regarding children, specifically with regard to the cry room. As was the case before, if you and your family would like to worship in the cry room, please reserve it in advance by contacting Gregory Sager at office@ravenscov.org or 773-784-7091. One family may choose to use the cry room upon arrival if it hasn't already been reserved. Children of all ages are always welcome to be in the sanctuary with their parents for the worship service!
Ravenswood Covenant will continue to livestream worship each week on YouTube and Facebook; this is now a permanent feature of our ministry, so Sunday morning worship will remain accessible to anyone who has Internet access.

Farewell luncheon for Pastor Phil & Kerry
Please mark your calendar for a special luncheon that will be held next Sunday at church, following what will be the final Sunday worship service that Pastor Phil leads at Ravenswood Covenant. The format will be a socially-distanced meal served simultaneously in both the fellowship hall and the lounge, as was the case with the Offerfest meal in November. This will be your opportunity to say farewell to the pastor and Kerry and to thank him in person for his service to our congregation, so please make plans to attend. Please RSVP by the end of the day this coming Thursday, February 24. If you did not receive the email invite with the RSVP link in it, paper RSVPs are available in the narthex today.

Jar of Gratitude for Pastor Phil & Kerry
We are putting together a "Jar of Gratitude" for Pastor Phil and Kerry. If you would like to write a note of thanks, a letter of encouragement, a memory, a Bible verse, or something you appreciated during Pastor Phil's time at Ravenswood Covenant, please write it down this morning. The jar is in the narthex for you to deposit those letters and notes. You can also put your note or letter in an envelope and give it to Pastor Denise, Gregory Sager, or Don Hodgkinson prior to next Sunday, or you can also mail it to the church office and write on the outside that it is for the gratitude jar. The letters will only be read by the Staurseths. Children are encouraged to draw or color a picture if they would like to add something to the jar.

Pictures needed
Do you have any pictures of Pastor Phil and Kerry and family? We are creating a slideshow for Pastor Phil's farewell on February 27. If you have some pictures to add you can email them to denise@ravenscov.org. Church events, baptisms, dedications, weddings, farmer's market, etc. Pastor Denise can scan in regular photos if you don't have a digital copy, just bring them to church within the next couple of days.

Lake County Symphony Orchestra concert
Cynthia Arden invites you to attend "Timeless Classics — An Inescapable Force" featuring Tchaikovsky Symphony No. 4, which will be presented by the Lake County Symphony Orchestra on Saturday, February 26 at 7:30 pm at the Village Church of Gurnee, 1319 Hunt Club Rd. in Gurnee. Tickets are $20 presale, and can be purchased at http://www.lakecountysymphonyorchestra.com. Tickets at the door are $25; kids 12 and under are admitted free.

Wedding shower for Erin Staurseth
There will be a wedding shower for Erin Staurseth on Saturday,
March 19 at 11 am in the fellowship hall downstairs. The happy couple is registered at Target, Amazon, Crate & Barrel, Williams Sonoma, and Bed, Bath & Beyond. Please RSVP to the church office or call Marlene Glowen at 773-275-9138.

Chicago Zomi Bethel Church to share our building
As per a vote taken at our last congregational business meeting, Chicago Zomi Bethel Church has been accepted as a renter of our space and a rental agreement has been signed. CZBC is a small congregation consisting of immigrants from the Asian nation of Myanmar. CZBC will meet in the older (sanctuary) half of our building at 3 pm every Sunday beginning March 6.
Be sure to greet and welcome our Christian brothers and sisters from CZBC if you meet them!
Faith Forum
Faith Forum, our adult Sunday School class, meets every week in the upstairs lounge at 9:30 am. It operates in a hybrid format; you are invited to attend in person, but if you do so, please wear a mask. As was the case last year, the class will also have a Zoom component for those who wish to attend remotely. The Zoom link can be found at the top of the online bulletin every week. Pastor Phil is currently leading Faith Forum in a study of the book of Romans.
Thursday evening adult Bible study
Our weekly Bible study meets on Thursday evenings at 7 pm. We are about to begin studying the book of Philippians. We welcome anybody to the upstairs lounge on Thursday evenings who wants to take part in the Bible study. Please wear a mask. If you would prefer to participate remotely, or if you are out of town, the Bible study will continue to provide Zoom access as well for online participants.
Join Zoom Meeting
https://zoom.us/j/95052558015?pwd=N3d1eFpUUmUwenhCSzNJNUk3WEV2QT09
The Zoom meeting ID for the Bible study: 972 871 4458
The Zoom passcode for the Bible study: 1qa3CD
Join Us in Sponsoring a Student in the NPTS SRA Program
North Park's School of Restorative Arts offers a MA in Christian Ministry and Restorative Arts, allowing free and incarcerated students to study together. This unique degree program is designed to prepare individuals for ministries of restoration in contexts susceptible to violence and includes courses in trauma, race relations, nonviolent communication, conflict transformation, restorative practices, and transformative justice, in addition to Bible, theology, and history. In partnership with the Illinois Department of Corrections, this four-year degree is currently offered at Stateville Correctional Center with 80 incarcerated men and a first cohort of 20 women at Logan Correctional Center.
We, Ravenswood Covenant Church, have partnered with North Park Theological Seminary by committing to sponsor a student in this program. To help us support an SRA student please send a check to church or give online and in the memo line write: "SRA Sponsorship."
Free masks available
The church is offering free masks to anyone in the congregation who is in need of one. If you would like, you may make a donation to our benevolence fund when you come to the church building to pick yours up. Please contact the church office at office@ravenscov.org or 773-784-7091 for more information.
Scripture for next Sunday
Psalm 27:1-4
John 9:1-41

Art Used in this Bulletin: Steve Erspamer, SM
Clip Art for Year A © 1992, Archdiocese of Chicago.
Our church exists to love and worship God, and love and care for others. By God's grace, we commit to help people find and follow Jesus Christ through the guidance of His Spirit and His word.